Tadi tengah scroll2 twitter & ternampak satu thread yang diretweet oleh seorang hamba Allah ni yg Ray tak igt pulak siapa tapi thank you sebab andalah saya mempunyai idea untuk post seterusnya. *BIG CLAP yeayyy
This is not originally mine tapi sistur Hani Aqilah punye. Dun worry kebenaran sudah pun diminta dan boleh la klik nama dye untuk pergi ke halaman twitternye ya. Mana tau nak tanya dye pape kan. ihiks
So here it goes.
Bawah ni ada d'senaraikan beberapa restoran dan cafe yang boleh dikunjungi untuk sesiapa yg dtg ke Kuantan. Ni untuk sesiapa yg x tahu dan penuh dengan persoalan "Nak makan mana ek??".
1. Azam Roaster - IM 8
Semua western/local food dia sedap kat sini. Harga pun berbaloi
"Yes betul. Makanan kat sini memang sedap and sebenarnya ade satu lagi cawagan area Pantai Balok."
2. Krim Cafe
Sukakan mango cheesecake? Korang boleh dapatkan ice cream mango cheese cake kat sini. Any cake turns to ice cream here
3. Kulacakes
Orang luar mesti tercari cari kedai ni disebabkan Mango Cheese Cake dorang

or any other cakes also
"Kulacakes dan Krim sebenarnya satu cawangan yg sama, I mean owner dye ialah org yg sama ."
4. Burgerak
Kat sini of coz lah about burger kan? Sedap pun sedap. Ada jugak benda lain. Tak ingat dah nama apa.
5. Beanz & Co Cafe
Cafe ni portion makanan dia quite besar. But org selalu celebrate surprise party kat sini.
5. Warung Hidayah
(berhadapan landasan kapal terbang jalan gambang) Nak rasa nasi kerabu, boleh try makan kat sini
6. Nasi Kukus My Mama
Kalau datang Kuantan, wajib makan nasi kukus ni tau! Ayam besar. (Sumber google)
"Nasi Kukus My Mama ni sangatlah famous. tak pernah lagi komen negatif pasal makanan dye. Sangat disyorkan ye."
7. Koko Cafe
Aku tak pergi lg tp kawan aku dah pergi then dia cakap sedap. Everything is from chocolate guys


(sumber: ig kokocafe)
8. Warung Mok Na Tanjung Lumpur
Sape kata Kuantan takde celup tepung? Sata pun ada tau (sumber google)
9. Restoran Satay Zul
Yg nak makan satay dekat restoran tu boleh dtg sini. Mee kari nasi lemak dia pun sedap (sumber google)
10. Loteng Teluk Cempedak
Yg mana suka tempat relax boleh tgk pantai minum air boleh lah lepak sini
"Kalau kat sini mmg cun la bila nak lepak. Tepi pantai pulak."
11. Mabiq/ Mabiq 2 Tg Lumpur
Sape suka masakan kampung? Ikan patin masak tempoyak? Pais ikan patin? Sini tempat dia. Sumpah sedap (google)
12. Lilawadi
Kat sini pun korang boleh dapat cake dari Kulacakes w/out beratur

steambot ada jugak. (Google)
"Kat sini cake dye boleh tahan jugak. Not bad and tak rugi untuk try."
13. Warung Poksu Moksu Tg Lumpur
Sini pun makanan celup tepung jugak. Laicikang banyak isi, laksa pahang yummy.
"Uish sini memang tempat favorite dulu. Kalau lalu tak sah kalau tak singgah.
Skrg dah jarang pergi. Tp serious sedap bohhh"
14. MYNY Cafe - IM
Dia punya spagetti panna rasa pure gila. Aku rasa dia punya buttermilk chicken. Boleh tahan lah jugak
15. Mustafa Cendol Jalan ke TC
Yg nak minum cendol ke rojak ke kan boleh lah dtg sini. Mee grg mamak pun superb
Haaaaa sini memang kene pegi. uolls kene try okay.
16. Mail Ikan Bakar
Kawan aku cakap kat sini seafood dia lg sedap. Idk. Try lah?
17. Ana Ikan Bakar Petai
Kalau tak ramai, tak sah kat sini. Sape peminat petai mai lah makan sini okay?
18. Wan Satay House
Wan Satay House ni pun menyengat jugak satay dye. Selain Satay Zul, Wan Satay House ni pun woth the try jugak. (gambar dari encik google)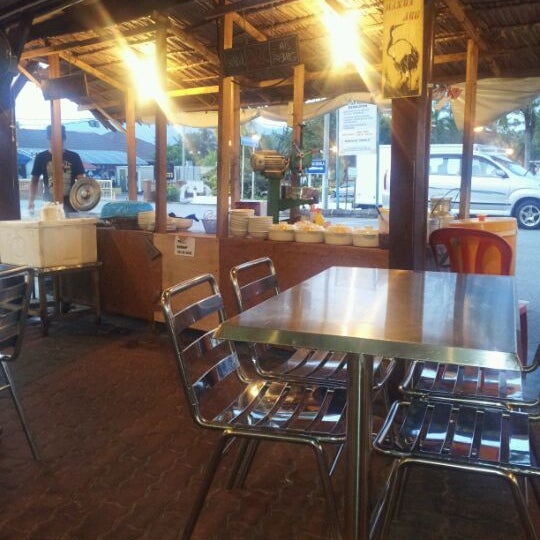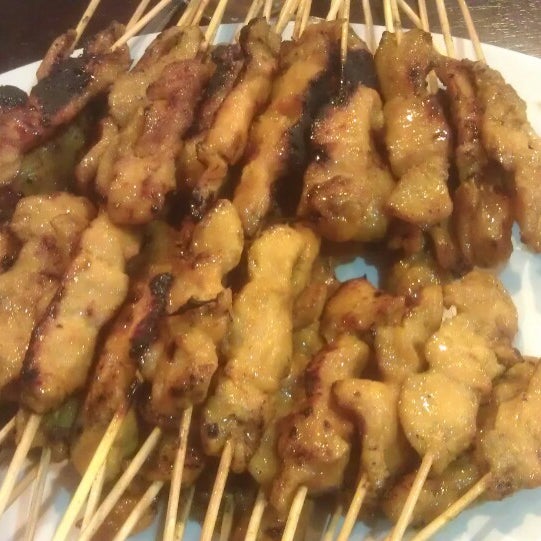 19. Satay Wak Radol
Even still baru bukak tapi sambutan sgt menggalakkan sampi ke hari ni. Kedai dye dekat je dengan Kulacakes. So sesiapa yg pegi nnt tu boleh merasa Kulacakes skali. Alang2 kan, kite cuba belaka. (gambar dr encik google)
20. Kingstone Food Court & Hall
Untuk pengetahuan semua Kingstone food court & hall ni baru je beroperasi tahun ni. Kalau x silap awal bulan Sept lepas.
P/s: ramai dtg sini ade yg sbb semata2 nak minum Kelapa Joget. huhu
Klik SINI untuk pegi ke page Facebook they'olls
Ok tu je la stakat ni. Ray campur2 je menyelit sikit komen mana2 yang rasa nak komen.
Tapi list2 tempat tadi memang diapproved oleh ramai orang.
Berdasarkan feedback dan pengalaman masing2.
Ade banyak lg tmpat yang xde dalam list ni. In shaa Allah nanti ada lagi tu yg akan update dr semasa ke semasa.
Sesiapa yg rasa nak share or tambah ape2 boleh la bgtau kay.
Terima kasih sudi singgah dan baca post kali ni. hehe